For more information, contact: Lisa Sullivan
SOA WATCH DELEGATION TO PARAGUAY
April 16-24, 2013
Delegation Fee: $1250
Optional: Travel to Iguazu Falls and Itaipu hydroelectric dam April 24,25: $200 extra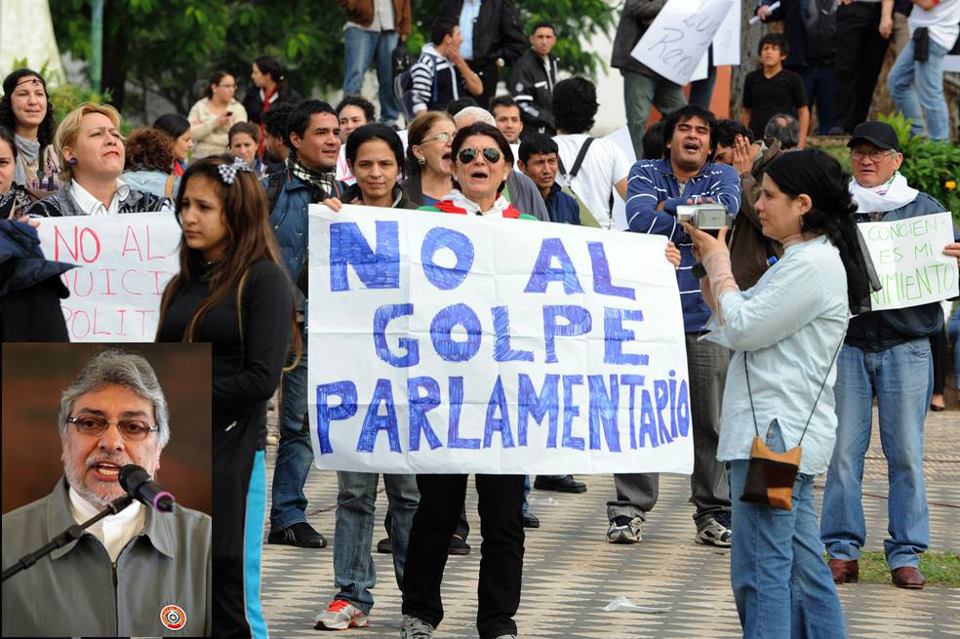 Paraguay has been a lightening rod within South American politics over the past months, since the right-wing congress used a bloody confrontation between landless peasants and police forces as a pretext for removing President Fernando Lugo last June. Lugo, an ex-bishop inspired by liberation theology, ran on a platform of agrarian reform and justice and accountability for past human rights violations. His 2008 victory ended the 61-year rule of Stroessner's Colorado Party. The "express coup" was condemned throughout the region, and Paraguay was removed from UNASUR and Mercosur by fellow Latin American governments.
Presidential elections have been scheduled for April 21, 2013, and the current regime hopes that these elections will legitimize their dominance and bring the nation back into the fold of several international organizations from which it has been excluded. All eyes will be on Paraguay that day, and an international presence is essential.
Focus of the delegation
1. Observation of Presidential Elections
Participants on the delegation will do informal observation of these elections that will be held on April 21st, in the hopes of sharing with the larger international solidarity community about the process and outcome.
2. Situation of human rights in Paraguay
· Land reform issues
The group will visit the site of the June 15 massacre at Curuguaty where 11 peasants and 6 policemen died, triggering the impeachment of former Paraguayan President Fernando. Congress demanded that Lugo immediately resign or face impeachment over his handling of the crisis, in spite of the fact that many of the legislators were the very same ones who for decades had promulgated the theftof millions of acres of land that they distributed within their own party during the Stroessner regime.
· Criminalization of social protest
· Archives of Terror. This is the 20th anniversary of the discovery of these hidden archives, that detail the killing and disappearance of thousands of political prisoners during the Stroessner regime, and which trace the creation of Operation Condor, a secret plan among 6 South American countries to crush left wing political dissent. We will visit the Museo de la Memoria, a "recuperated" complex which had been a well-known torture center, and is now a research and education center.
3. Cultural events and traditional crafts. Paraguay is famous for choral groups since the Jesuit missions were established 5 centuries ago. Also, Paraguayan artesania is unique and beautiful, especially the intricate delicate lace weavings, and colorful cotton hammocks and blankets.
4. Optional additional 2 -day visit to Iguazu Falls and Itaipu hydroelectric dam (April 24, 25, extra $200 fee)
·
Housing
Participants will be lodged in a modest but comfortable hotels. There will be two people per room. The additional fee for a single room is $300.
Language and translation
All activities will be translated into Spanish and it is not necessary to have a knowledge of Spanish to participate.
Travel
All participants must arrange their own travel to and from Asuncion, Paraguay. Please do not purchase tickets until we notify you of your acceptance. Delegates should plan on arriving any time on April 16 and leaving any time on April 24th. For those who opt to visit Iguazu Falls (for an additional $200), they should plan on returning to the U.S. on April 26th. Each participant will be met at the airport and also taken back to the airport for their return flight. In-country travel will be arranged and provided by the delegation
Required documents
· Passport that is valid for at least 6 months from the time of entrance to Paraguay.
· A tourist visa which must be purchased at the airport upon arrival to Paraguay. The cost is $160 and must be paid in cash
Vaccines
No vaccines are required for Paraguay, but we recommend that you consult the recommendation of the CDC.
http://wwwnc.cdc.gov/travel/destinations/paraguay.htm
Application process:
The delegation has a limited number of spaces,so we encourage you to send the application soon if you are interested, as delegates are accepted on a rolling basis
.
Download and fill out the application, and then send it either
· by email to: [email protected], or
· by regular mail to
Mary Anne Perrone
1120 Brooks St.
Ann Arbor, MI 48103
After we notify you of your application of your acceptance, we will ask that you send Mary Anne a copy of your passport.
PARAGUAY.DELEGATION.APPLICATION
Delegation Fee
The delegation fee of $1250 covers all meals, lodging (double occupancy), travel within the country and translation. It does not cover travel to and from Asuncion. An additional $300 can be paid for those wanting a single room.
Payment
· Deposit of $200
Once you are notified of your acceptance, we require a non-refundable $200 deposit to reserve your spot. Please send a check made out to SOA WATCH to:
Mary Anne Perrone
1120 Brooks St.
Ann Arbor, MI 48103
· Remaining payment of $1050
This payment is due by March 25, 2013. Please send a check to SOA WATCH to
Mary Anne Perrone
1120 Brooks St.
Ann Arbor, MI 48103